Luggage Fetish
It's no secret that I have a luggage fetish. Towards that end, I've accumulated — and recycled — a number of bags. Baggage, totes, briefcase, laptop containers of various ilks, and these days? All I wanted was a non-Velcro (no hook and loop) bag made from canvas. Preferably waxed cotton canvas. Leather trim was totally optional. Would prefer 'none' but that doesn't seem to be an option these days.
To honor my own tastes? I would prefer to stay away from too much leather. Although, as source, the leather tends to be vegan.
On (date/time) NutSac @nutsacbags.com wrote:
A short reply with a brief statement or two about your reason(s) for purchasing a NutSac would be a great help!
At the rock shop in Austin, I posed for my gay boyfriend, slinging a bag over my shoulder, "I think I need a new purse, what do you think?"
"Your girlfriend is pretty hot," he said and rolled his eyes.
There are those days when no one has a sense of humor.
But I've been searching for a replacement type of bag, shoulder bag, not too big, just enough for an iPad, cables, notebook, glasses, and so forth. On some summer days, just the pockets of my shorts almost suffice.
Other days, all I carry is two iPads. I know, seems excessive, but each has a function. One is strictly dedicated to work, and the other is dedicated to work, also, in different formats.
For close to 20 years, my Timbuk2 with its cotton canvas has been a predictable — and stalwart sidekick. I've got one, an early version of their computer messenger bag, done in canvas. It's what made me like the material so — that and a faint memory of Belstaff (?) motorcycle riding gear. English waxed cotton.
So the choice started with some kind of waxed cotton canvas. It's a lot harder to find than I thought. Locally, Bexar Goods has a slick, rather millennial site, and the product is tantalizing artisanal, but no choice in color for the canvas.
To be fair, the Timbuk2 bag isn't really waterproof, and honestly, I don't do much more than dash from curbside to indoors, anymore. No long walks in the rain. The cotton — real canvas, not nylon or plastic derivatives — wears better. Has a warmer feel to it.
Luggage Fetish
Until recently, Timbuk2 offered cotton canvas as a material for custom built bags. I might've wound up with another one, but it's not offered in the current cycle. Besides, I still have my original.
"Boy, don't be fixin' nothin' ain't broken."
Repeated searching, scouring places like Etsy and eBay, I found a number of close alternatives — but these were more ideas as each had a simple drawback in design, execution, material, or shape. Size. I wanted a certain size.
In the meantime, a handy — cheap — pseudo military bag from Amazon worked, but only sort of. Size was good, near perfect, but the shoulder strap was placed wrong, and the bag Itself was cheap nylon. Looked cool. Looks "tactical," whatever that means. Still is a backup bag, but I fear I'll toss as soon as the new one arrives.
After much perusing, I'm getting better as an internet shopper, I figured size, material, and then, the way the flap — a design requirement in my mind after the tactical baggage — closed. Sam Browne style fastener. Flap over, fastened with a quick-release Sam Browne button being preferred.
It's a little detail, but one that makes perfect sense in this context, and I've used shoulder bags for over 30 years now. The flap over means the bag can be quickly gathered up and summarily closed without the zipper, and the fastener doesn't make any noise. Simple, easy. I like being able to drop my gear, usually just a tablet or small notebook, back into the bag, and move.
My goal is to reduce my load, get it down to the two, the smaller one for most daily occasions, and the larger one for work/travel, as required.
The — I suspect — automated comment from the manufacturer, asking for a line or two about what I was looking for prompted this longer discussion point. An earlier version of this post went out as a reply.
Luggage Fetish
I did look local, and there is also the Filson-brand option. Bexar Goods has an intriguing selection, and the idea of local? Perfect — canvas, a size that was too big, but I could work with that, and then the color of the canvas? While tan or khaki is current and in vogue, I mush prefer black. Simpler, and keeps everything the same color scheme.
Filson, as a mention, as well, hit all the right marks, plus, a dealer in New Mexico recommended one, grabbing a used bag off the shelf, and replete with harrowing tales of travel, worried rain, and the banged up but still useful baggage in tow. Size and design. To get the right size?
What I wanted was a shoulder bag, loosely, a messenger-style, perhaps a shade smaller than most, and maybe, fewer dangling bits. Simple, clean, a man-bag. A murse. With its handles, the Filson looks more like a briefcase, not messenger style. From that original leather saddlebag? Shoulder strap. Much more efficient for my styles.
Luggage Fetish
No unboxing video, just grab, stash crap in the pockets and head out to — long story.
See how it holds up — more later.
Pink Cake: The Quote Collection – Kramer Wetzel
Pink Cake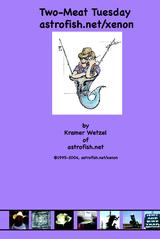 Two-Meat Tuesday – Kramer Wetzel