There's only the barest of connection between the two, Gemini and the two business cards, but I liked the connection.
One business card I collected from a fishing buddy. I asked him for business cards and he handed me a stack of brochures, "I don't do business cards anymore," he explained.
He then proffered a handful of Eagle Claw "Good Luck Hook" cards, as my buddy was once sponsored by Eagle Claw (hooks). Earlier in the day, he was busy fishing out those very same Eagle Claw Hooks, with leader, as we were in the thick of fishing and catching.

To be honest, my buddy doesn't need a business card. He later handed me a stack of rudimentary brochures, and he writes a column for the local newspaper. That, in itself, that generates more business than anything else.
I was thoroughly intrigued with the Eagle Claw Hooks business card. I toyed with the idea of something similar, some years ago, but I never developed the idea. I got as far as pricing, and I found a company that would imprint my name/logo, URL on a fishing lure, but the price was a little too high.
A number of my associates have their name and numbers on pens. I've found that to be rather old-school, and not a promotional item I'm interested in.
The other business card, that's just the back, the front has an email and URL that both, no longer resolve. They dead end at a domain register (not a good one like Register4less).

Still, I've held onto that business card. I like the abstract art, and examine it carefully, the size of that card is a little different from most business cards. The back was just a blue background, with name, URL and e-mail. Just the usual
electronic contact
data points.
That particular card has outlasted the contact information. I've only had that card sitting on my desk for a year. Maybe less. One reason I was afraid to give up the legacy phone number, as, by my inaccurate count, there are more than tens of thousands of my old business cards with number on it. The AOL Keyword, no longer active, the plethora of e-mail addresses, again, most of those are no longer viable, but it's not like I don't have some easy contact points.
The e-mail addresses, I've played with many, but I've had several at astrofish.net for the dozen years I've been at that name. All of those still work.

I've played with the business cards and the designs thereof. More than my own work, though, those two cards stand out — in my mind. They are exemplars I want to emulate. Not so much in execution, but as a token I want to hang onto.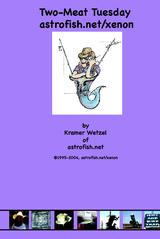 (Kindle Version)
Title: Two-Meat Tuesday