That's some kind of good fishing. Took my wee Scorpio mum to the coast for Mother's Day. As I was standing in line at the grocery store, Saturday afternoon, pink cooler (ice chest) in hand, I asked the clerk, checking me out, "What mom doesn't want a cooler full of fish for Mother's Day?"
Really, it was only two fish. Big fish. The biggest of the fish, though, he got set free. "Free the fighter," I always say (expression gratefully purloined from another fishing buddy.)
So it was three fish.
"I wish I had video of that fight," my buddy said, "it was good."
On the ferry at 5:40 AM, on the water by 6 AM, and I caught a couple of little trout. One crab, one hard-head, and one keeper-sized trout, then a sandy, but nothing else. Early on, there was some fun as the fish were chasing lures, just not eating them. Action, but not quite, a tease.
Then, after the noon hour, and after we were supposed to head in, it was time to check one last spot.
Two big reds almost at the same time.
"Here, Kramer lift them both up, get a picture of them together," and much hilarity did ensue. Didn't manage to juggle both of them at the same time.
The back pole bent over again, a tiny piece of cut bait, and and it was an epic struggle for superiority. Fish was staying down and stripping off the line, the reel's drag just screaming, again and again and again…
Got the fish up close, but not close enough to identify….
Then she would strip off 30 yards of line.
Wrestle the pole and the fish, back up close, and again, she took off, unspooling 20 yards of line.
After dinner, that evening, back in the grocery store, again, this time for dry ice, I posed the rhetorical question, again, "What mother wouldn't want a cooler full of fish for Mother's Day?"
None-rhetorical answer?
"You did clean them, right?"
"Slot" limit in Texas is 20 – 28 inches for Reds. That last one measured 29 and a half. One good picture series and she was back in the water.
Didn't seem like anyone else was catching. Lot of fishing, though.
What mother wouldn't want a cooler full of fish for Mother's Day?
Yes, they were filleted.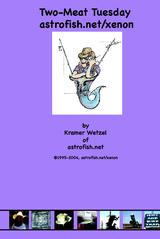 (Kindle Version)
Title: Two-Meat Tuesday