Favorite Shakespeare Performance 3
Ben Whishaw as Hamlet, Old Vic, 2004. That was an amazing find. Tumbled into the production, totally by accident, and the show itself was lavishly impeccable, with a minimalist stage design, but that kid, he was a kid at the time, delivered a stunning performance of Prince Hamlet, just amazing, wonderful, over the top, etc. "He can do anything he wants, now."
Opening scene, set a tone, the stage was bare, the wedding party in white, and Hamlet, in total goth black. Brilliant production from simpering fool to a valiant fighter.
Favorite Shakespeare Performance 3
The LibriVox.org version of The Scottish Play. At this point, I've seen that play on stage two-three times, at least, and the performances fall short, in my mind, but only because I'm so steeped in lore, anecdotal esoteric, movie snippets, popular culture, and the various interpretations of the play — not to mention some academic resources.
Usually leave me less than fulfilled. As one of the shortest plays, it can still be the most difficult because of layers and staging.
That audio version, and I hope I linked to the correct version, seemed to pull out the clearest rendering of my take on the play. It's all done in order, too, not playing fast and loose with where scenes come. Bonus: it's freely available on the web.
Favorite Shakespeare Performance 3
Shakespeare's Troilus and Cressida, RSC, at the Barbican, I'm thinking around 1998? Sounds right. I went back and saw the play twice. The first was a set of understudies, and the second time, all by myself, there was the actual actors. The classically trained guy playing Hector? He was also a bodybuilder, and in his scant costume as a Greek warrior? He would —almost comically — flex those muscles.
One of the Fiennes brothers played the title role of Trolius. He ached, whinged, and emoted across the stage in high style.
I have a personal attachment to Shakespeare's Troilus and Cressida, one of the first plays I read that I could "hear" the voices, and get excited about the action, a weird play, at best, little performed, and problematic until I think in terms of modern "black comedy," darkly comedic in a strange and twisted way.
The sad ending to Troilus and Cressida — spoiler alert — it's a tragedy. But that sad ending? Wonderfully wrung out by the stage actors.
Favorite Shakespeare Performance 3
I can't find it at the moment, but a former educator asked what got me hooked on Shakespeare, and in part, it was Shakespeare's Troilus and Cressida, with that RSC version being the best performance I recall. Not the only one, but certainly the best I've seen so far. For me, though, it was reading and hearing the words, in my head, of the play. I always thought it was Black Comedy, with its inherent dark side.
There was an award-winning Hamlet I saw, one time on stage, but I found that the one I referenced above was way, way better — for me.
Then too, that audio version of the Scottish Play? One of the best. Probably because I listen on the way to and from Austin, and probably because that play is best for Austin's now-legendary traffic.
#shakespeare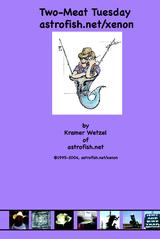 Two-Meat Tuesday – Kramer Wetzel
Two-Meat Tuesday: Astrofish.Net/Xenon