Virgo 2019
"New cleaning product, makes the room smell like despair and shame, infused with a special scent redolent in fear of failure."
Virgo 2019
1 As an unperfect actor on the stage,
2 Who with his fear is put besides his part,
3 Or some fierce thing replete with too much rage,
4 Whose strength's abundance weakens his own heart,
5 So I, for fear of trust, forget to say
6 The perfect ceremony of love's rite,
7 And in mine own love's strength seem to decay,
8 O'ercharg'd with burden of mine own love's might.
9 O, let my books be then the eloquence
10 And dumb presagers of my speaking breast,
11 Who plead for love, and look for recompense,
12 More than that tongue that more hath more express'd.
13 O, learn to read what silent love hath writ:
14 To hear with eye belongs to love's fine wit.
(Final emphasis mine: "to hear with eye," like, reading.)
I'm particularly weak in the Sonnets, as only having a sparse, cursory examination hitherto, and might be the case if wasn't for a single podcast. As background noise, Shakespeare sure beats news, local or otherwise.
The overall sonnet itself didn't catch my attention, but the original way I heard it?
"Reading with my ears."
Interesting how language changes and mutates. Or how I hear differently.
Virgo 2019
The Sun moves into the tropical zodiac sign of Virgo on August 23, 2019, a little before 6 AM, local. Interesting array to the heavenly bodies.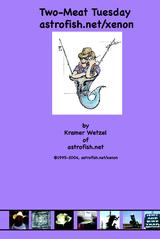 Two-Meat Tuesday – Kramer Wetzel
Two-Meat Tuesday: Astrofish.Net/Xenon