Tarot 1-2
Simple Card Pull
It's an old trick from early days of learning how to navigate this eery, ethereal, earthy area. I flipped up two cards, just to see what they say, looking for hope and way forward in this morass with the weight of the world weighing heavily, like mordant mass, overhead.
— The Magus (the magician) and 2 of Cups.
Looking at that magician, in front of him arrayed around his form? There's a symbol for disks (earth), wands (fire), cups (water), and swords (air). The caduceus is the staff of Mercury, yes, that Mercury, the trickster and yet, it's also a sign of healing. This image bears that out even more with the wings of flight attached to the figure's heels.
The 2 of Cups shows the twin golden carp acting like a fountain, and that borrows from an even more arcane set of mythologies. There was a recent article about carp that was possibly over a hundred years old. (Hashtag, "justsayin'".) In addition, there are Venus and Cancer symbols, love, perhaps in its purist form all spiritual and divine feminine and all that. Good stuff.
Tarot 1-2
The magician can conjure up, with all at his hands, a little bit of divine love. That's all we need. Just be nice to each other.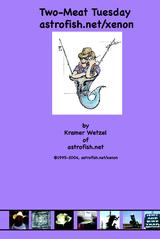 Two-Meat Tuesday – Kramer Wetzel
Two-Meat Tuesday: Astrofish.Net/Xenon