Wave Crested
There was an era when Austin was a little town, fraught with little town problems, and it was before "everything changed."
"Keep Austin Weird" wasn't co-opted as a slogan for a traditional, mainstream Chamber of Commerce type of mantra, it was merely a definition of lifestyle.
I spent more than a decade wandering the streets of Austin, and I almost fell into Austin's then-fabled "Velvet Rut." Not an original term, but one that fit so well, the Velvet Rut — sounds like a band name from before my time — was that era when good music, good, local music was live almost every night, and there was myriad of events occurring, all within an easy walk of a certain trailer park.
Or otherwise.
The publication date for the original version of Two Meat Tuesday was around 2003 or 2004. I was in love, in love with life, traveling, working, bouncing across the state mostly, but I did travel further afield, all of that.
There was magic in the air.
To me, that magic is all but gone. Not totally disappeared but pretty much escaped. Glimpses of what made Austin what it was are still there in remnants. My old neighborhoods are now filled with mid-rise, multi-use, multi-family dwelling developments. One month's rent in the current climate is what I paid for a year, be my guess.
Who can afford that?
That was one of the years I was on a first name basis with baggage handler at the Southwest Airline ticket gate, "Where you going today, Mr. Kramer?" Big grin, "El Paso, Dallas?"
Austin didn't have a straight-through flight to London, either.
That was then, and this now. I still love the idea that I almost flew out on a Friday — old airport — work in West Texas — and I was supposed to land at the new one. Its construction wasn't quite on time.
Wave Crested
My old suitcase, much battered by ramp rats at various airports, the suitcase itself is covered in stickers.
As a single touchstone, though, there was, think it's still there, a bumper sticker from a band that was known as "Titty Bingo." Before anyone gets upset or, quelle horrors, offended by the term? This was a sticker that was freely distributed inside the local weekly paper — there were hundred, thousands, tens of thousands of the stickers available.
This is not new.
To me, that wave crested before it was an era of "super-tolerance." Before politically correct was a big stick we get beaten with. There was also a certain kind of tolerance then present that doesn't seem to be there any longer.
Wave Crested
Wasn't much longer after that, I think, the wave crested. Analog was subsumed by digital as the first of the last of the analog children came of age. Think that's when the wave crested.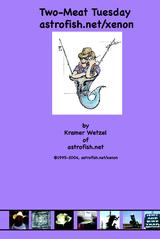 Two-Meat Tuesday – Kramer Wetzel
Two-Meat Tuesday: Astrofish.Net/Xenon