Port A Beach Sign
Comes a time when I get feeling a little low. Been almost two years since the hurricane ravaged Port A and Rockport. The coastal communities are slowly recovering but places like Avery's are gone. I mean, there's nothing left. It's an empty spot.
Fishing was spotty, last time. Still, there's a sense that the indomitable pioneer spirt lives on.
The Devil's Elbow is inhabited by a strange mix. Characters drift downstream, buoyed and eddied along until they hit the shoreline, and short of growing gills, eventually take root — sun burnt, grizzled, perpetually sandy feet.
In some ways — my people.
Just when I thought the new and improved developments, the hurricane-proof modern monstrosities would lay waste to the already ravaged Third Coast?
City Limits sign. Last list item, lower right?

No ties.
Port A Beach Sign
Can't even make this stuff up.
My people all right.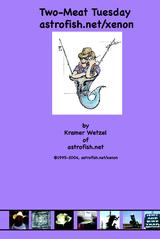 Two-Meat Tuesday – Kramer Wetzel
Two-Meat Tuesday: Astrofish.Net/Xenon