Sparkle Faerie
Or, as the help so evocatively phrased it, yes, just read for yourself.
Some of the text in the book might be older than the artist who called me "sparkle faerie." Not that I'm complaining. Considering how far back this goes, I was, at one time, called "Delicate."
So the sobriquet is sparkle faerie — one gets to a point in one's life where such appellations and monikers, they really don't matter. Believe me, I've been called much worse — I always took Fishing Guide to the Stars as a compliment.
---
Sparkle Faerie Roots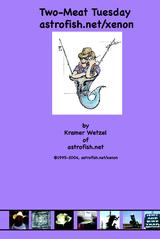 Two-Meat Tuesday – Kramer Wetzel
Two-Meat Tuesday: Astrofish.Net/Xenon