There's a very pronounced sense of place that I find in my various locations.
Austin is right at the 30th parallel, 30N16. San Antonio is listed at the 29th, and Corpus (Corpus Christi, TX, close enough to call home even if it's not 27N29.)
29 and under
Life beneath the 30th Parallel
Living under the 30th
Life on the 29th
Under 30 Only
Only under 30th
Just ideas to toy with, and might not ever get fully developed, which, in part, is the purpose of my wandering miscellany.
It's "West of Key West," sort of, and as such, makes for poetry in my mind. There's the added flavor of Old Spanish, too, just look at the name of the town, the major population center.
Just as a reminder, this wandering miscellany of anecdotes, antidotes, and diatribes will be moving to a new location, different URL: Sky Friday, as of January 1. I think 14 years in one place is long enough.
Technically, life beneath the 30th parallel is "subtropical," and as I perused information about biodiversity zones, I was appalled to find that the Devil's Elbow (Texas Gulf Coast) is not considered either endangered or that diverse. It is; I don't care what they say.
Odd, what a few miles will make as a difference. Austin is mostly long pants by now, while just a few miles south? Not so much. Go another hundred miles and it's positively tropical.
Odd memory, I was in London Xmas 2004. It snowed in Corpus. Missed Austin, if I recall, but I wasn't there.
Back to "Life Under the 30th," another reminder that the astrologer must do astrology, with similar guidelines.
Two-Meat Tuesday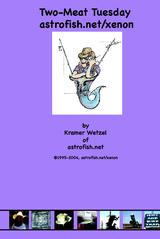 (Kindle Version)
Title: Two-Meat Tuesday
ISBN-13: 978-1411638723

Two-Meat Tuesday – Kramer Wetzel
In Other News:
Today marks the translation of Botwulf of Thorney, as in it's his day, the saint. St. Botolph (patron saint of travelers, with a Gemini Saints' Day and a Sagittarius translation.)