I'm fairly big fan of the work by Marlon Sanders. His Traffic Dashboard is one of the few marketing products that is really worth every penny.
Affiliate link, Traffic Dashboard
It is clear, concise, to-the-point, and the single element I seem to be missing is my own, twisted, wry humor. I'd expect a little humor from someone like him. I've seen him, speak, several times, he's an engaging speaker, but more fun, I was on a call with him. Video-inner-webz-chat-room.
In an hour, there's almost a mania the man evokes, but in that hour, he covered much material.
Aquarius, but after that? He looked at me sideways, unsure of my intentions.
Gleaned a few points. Most marketing is push-push-push. The new sense on the inner-webz is that there needs to be more push-pull. Old-School marketing was male. Push. Need to be in touch with the female side, too, push, pull.
Most the marketing types I've been around are all push. Alpha male. Give, take and interact.
Serious about marketing in the new age?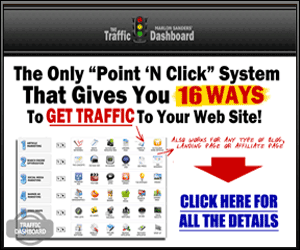 Modern marketing from an old-school master who grows and changes with the times.