It's a Porsche 914. Do that inter-webz thang, look it up.
At one time, I think that was a dream car. VW reliability and modern Porsche styling. Mid-engine, air-cooled, 4 banger, I think with Weber carbs, or something, but basically, it's a VW bug – pancake four – motor in a rear mid-engine chassis.
In cooler climates, it makes sense. Top was off that one, one particular afternoon, and I shot the image with the phone. I peered inside. Made me think about dreams of that car.
I'm not much on project cars, too much time spent fiddling, and not enough time spent driving, the return on invested time just isn't there, not for me.
The 914, and in one variation, with a flat six pack, it was called a 916, the 914 was sold under the VW marque in Europe, but as fancier, more expensive Porsche here stateside.
San Antonio had a huge Air Force population at one time, I'm just surprised that the car culture, especially sports cars, isn't more pronounced. Air Force guys liked fast cars. While a VW powered Porsche isn't exactly fast anymore, it could hold its own in handling, lineage, and freak factor. Probably why I was interested – at one time.
This one had a small tear in the driver's seat, but that was about it. Looked mostly factory, and mostly clean, cute car.
But isn't British Racing Green the wrong color for a Kraut car?
San Antonio, from the air, and Dallas.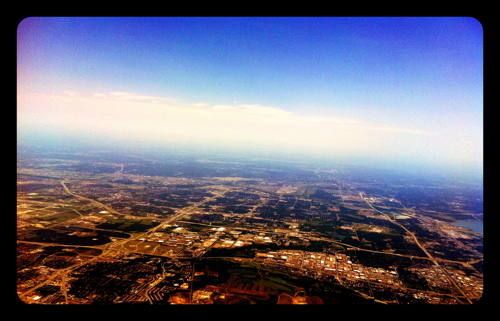 Begs the allusion….