Eternal Fascination:
I'll always have an eternal fascination with the London Tube. It moves more people, it can be frightful expensive and yet, it's still one of the best people movers in the world. Always rated as easy to use, if a little pricey. But in London, everything is a little pricey, just don't do the math.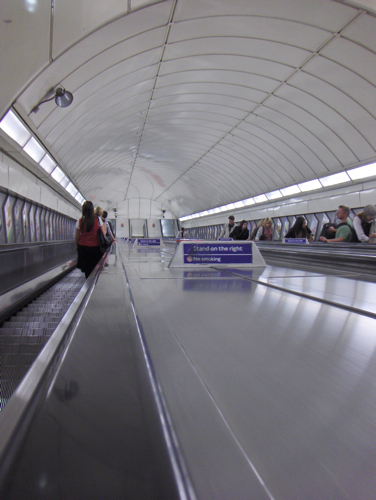 The Angel Station, on one of the lines, boasts the longest – or tallest – Tube escalator. 27 Meters. Don't know if it's true, didn't measure, but that's a quick pocket image.
Got off at Angel, rode up, back down and proceeded onward.
Musical note: "Keep feeling fascination…"
Star Restaurant Reviews:
Wagamama in Covent Garden. Well, not in Covent Garden, but, like, about a block away. Go down two flights of stairs. Turn the corner. Wait in line. There it is. Fast paced fast food. I ordered some Chicken Chili Men. The waiter warned me it was hot. Hot? Not so much. Maybe a little warm, but no, not hot. However the noodles were exceptional, and I was hungry, and the British, "cheek by jowl," were cool as ever.
Which was funny because it was after the afternoon show at the Globe – Bankside – where, I was in the audience, cheek by jowl. Tight squeeze.
I suppose, if one lives in a big enough city, all the time, then in your face means in your face. The food was good. Not so hot, but certainly tasty, filling and delicious.
Merry Wives? Excellent afternoon romp through some lyric verse and fun circumstance. Not the Sir John we would all recognize from Henry IV, but who cares?
Busking:
It started on the train ride in from the airport. Weird enough to make an impression on my fervid, travel-addled pate: a guy was rocking the squeeze box. Got on at one tube stop, played a number, shuffled past with a cup, begging change. I had none at that time. Besides, a young man with white loafers?
But in several other tube stops, there were guys, I'm guessing Middle European flavor, rocking the squeeze box.
One of from the tube station beside St. Stephen's Clock Tower (Big Ben), and the blue man is just along the Queen's walk, past the London Eye.