Two Meat Tuesday (the book)

(cure for the common horoscope)
Pink Cake A commonplace book.
Dreams: What normal male doesn't want to go to Vegas and marry a showgirl?
Sweet Dreams are made of these…
I'm just saying. Or not.
The bachelor party at a strip club, the rehearsal dinner at the "all you can eat" buffet? The wedding at the Bass Pro Shop in Las Vegas? Under canopy of fishing poles?
"With an honor guard, bearing fishing poles, am I right?"
Or what?
Anyway – thanks to one Red-head, we dined at Spago in Caesar's Palace, which, in and of itself is a bewildering array of Las Vegas wretched excess, and when I went to the bathroom? There were, maybe three, painting/photograph/print/collage things. Be my guess that it was digital images printed on canvas, like, five feet wide and maybe two feet tall. As I went towards their bathroom, up the stairs, down the hall, I saw the first one and I marveled at it because there was something eerily familiar about the scene depicted. Van Horn? Somewhere on I-10, east of El Paso, I think. Halfway between Marfa and old Mexico.
Artist's name was meaningless to me, as was the art form. On my way out, though, I saw another picture, a quick phone cam picture: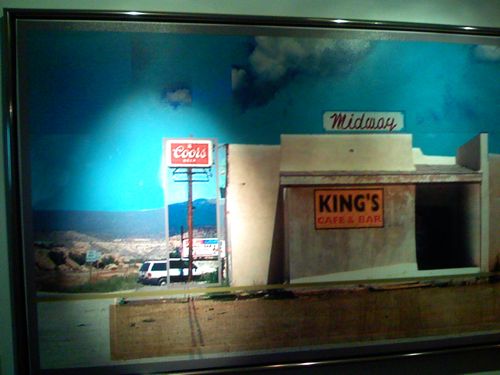 Not the same Midway Diner I got an image of, which, offhand, I can't locate. Buried in the
old archives
, I'm sure. However, it should be the same place, midway between Chicago and LA, on the historic Route 66.
iPhone idear:
Remote control. What I always wanted, a piece of bleeding edge equipment that I can use as a remote.
Proof that the simplest of images are good.