Dr Pepper Milkshake
Two icons, flavors, twin iconic images, and for me, an interesting biographical footnote, as I did grow up in the shade of the old Dr Pepper plant — the old plant location long subsumed in current metastasizing growth.
Never mind history.
A wayward, road-weary stop at the one iconic place, What-a-Burger lead me to sample a Dr Pepper Shake, and it was quite good. The secret, patented Dr Pepper special flavor greatly enhances the now-corporate sell-out chain's soft-serve shake mix.

o.m.f.g.i.w.g
, with a nod to musical history.
In Austin today, see listing for details.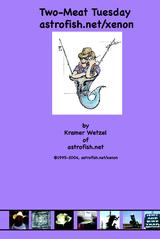 Two-Meat Tuesday – Kramer Wetzel
Two-Meat Tuesday: Astrofish.Net/Xenon