Chuck's Quote
Me? I have a great love of BBQ, in several, preferably Texas varieties. Recently, I was amused at the hue and cry about Franklins in Austin, it — in my mind — being a relative newcomer to the scene, more like third-wave BBQ. Bound to irritate some with the comment, but it wasn't even there when I was living in Austin. In a trailer park.
Bubba and me, we went back forth a great deal about me getting out to try Chuck's BBQ, as Chuck had a place in Selma for a while, notably famous for its speed trap. Selma, famous for its speed trap. For years, the tiny hamlet owed its local funding to a narrow patch of Interstate, just north of San Antonio, and way south of Austin, speed limit dropped and the police sat off to one side, cashing in on the infractions.
To this day, "Just go the speed limit; it's easier."
There's a Rudy's in New Braunfels, as well as one just a touch further south in Schertz. Chain stores, but good BBQ. Great sauce, good enough BBQ. There's Cooper's "Old Time" with the massive billboard and advertising behind it, also a dependable place, good pork chops, if memory serves, and it might not, but these are big places.
CBQ is tiny "joint," a mere speck, a mote in the eye of the BBQ gods, and as such? Frequently missed. Good stuff? No, it's great. Game-changer. Taste icon. Standard bearer. Leading the way. Whatever superlative fits best.
The walls of the place are festooned with rock memorabilia, not unlike the first Hard Rock Cafe, only, most of the stuff on the walls, some of it, it's signed to Chuck. He was a hard rock radio jock for years and years. Bubba and him were in school, back in the day (SWT — guess that school, hint: San Marcos.)
So this is old school material. Native Texan, out of the Houston area, but grew up in Central Texas? Opened a restaurant in defiance of the odds, and so far, the quality of the food itself, it's just amazing.
Standouts include:
Burnt Ends
Fried Fried Bacon
Fried Black-Eyed Peas
Pork Ribs
Mac n Cheese
Creeping Death
Disco Death Fries
Of interest, the sides are as good as the meal itself. Then there's the chili. All meat, with the hint of BBQ smoke flavor, made with parts of the platters that don't get served, enough spice to command attention, but not so much heat as to overpower the pallet. The delicate and nuanced flavors of the wood smoke, the BBQ essence is enhanced. Makes for great chili.
The other afternoon, I had a small side of Mac-n-Cheese as a dessert; it is that good. Some kind of fancy cheeses, not ordinary cheese-like goop, but the real thing, made from scratch, be my guess.
While it's ice tea for me, there is a full bar, along with requisite beer selections.

Hewing to a "no carb" kind of diet, one recent trip, all I had was pork ribs. Done perfectly. Crispy outside, throughly smoked yet a little moist for the meat itself. An almost candy-like, crunchy exterior, perfectly executed.
CBQ
There are three kinds of BBQ sauce served, all homemade. The only one I'll even consider is Creeping Death because it is ghost-pepper based. The obstacle in cooking with some ingredient like that? Finding the perfect sweet spot between "heat" and "flavor."
Chuck's nails it. Perfectly.
I'm sure I've lamented this in a horoscope, but the biggest problem? Besides Rudy's, this is the only BBQ sauce worth having, and unlike Rudy's, Chuck's BBQ requires no sauce — it's that good.
So the riddle, the conundrum, the crux? Place has the best BBQ sauces in the world, and yet, it also has BBQ that requires no sauce — the art of the smoker is so well rendered.
Good problem to have.
Chuck's Quote
Never noticed it before, but there's pervasive attitude and tone, that the tiny inscription sets. Like it. Like its attitude. Like how it reflects what the place stands for, near as I can tell. Tiny quote, back of the menu?
Chuck's Quote
"i'm your chef, not your doctor…
i don't care" -chuck
---
It's in strip center. Along the frontage road off the interstate. Have to drive to get there. But "Burnt Ends?" That singular menu item makes it all worthwhile.
"The Ends justify the means."
---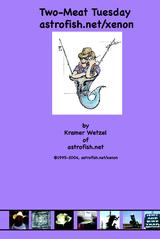 Two-Meat Tuesday – Kramer Wetzel
Two-Meat Tuesday: Astrofish.Net/Xenon