In front of San Fernando Cathedral, BexarCountyLine.com/2009/05/chicken-fight, it's a favorite historical tile.
Not ironic, not weird, just cultural.
No judgement.
I've tried several ways to capture this tile — BexarCountyLine.com/2012/03/courthouse-tile — across the street from Main Plaza. I've used three different point and shoot cameras to no avail as the light, and usually the afternoon shadows from the red courthouse, ruins the image. Unusable. Not bad, just not good enough to post.
That image was caught in the evening, with a phone camera, taken while texting. Almost an accident. Exported and tweaked, not much, but some, and then, it rolls over.
The message is clear, about this portion of the countryside, it's cultural diversity. History.
San Antonio Ledger
June 23, 1953…
"We strolled into a Justice Court the other day and were reminded of the time when God smote the children of men with a confusion of tongues. A German was complained of by a Mexican and a Frenchman was the witness. Each spoke his native tongue only, and yet there were no interpreters. Both Justice and Attorneys understood four languages.
BexarCountyLine.com
BexarCountyLine.com's, "Best of the Double Aughts" is culled, personal favorites, near-misses, and few bad executions, but still personally fulfilling "best of" images.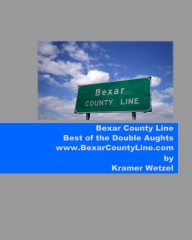 Kindle Edition
BexarCountyLine.com's (ISSN Library of Congress: 2150-685X)
The best of the Double Aughts (draft)
Published source.
ISBN: 1453764178
EAN-13: 9781453764176