My little friend, the Leo, Elaine, she's constantly working on new ways to draw in clientele. At the last event we worked together, she had a bowl with what looked like Runes. Instead, they were oblong wooden beads with her URL on one side and a single inspirational word on the other, words like "Create," and "Happiness."
I still have one on my desk, next to the keyboard.
Other ideas? Like breaking the 4th wall?
Who wins this fight?
The consumer.
Unrelated:
One of the highest grossing editorial policies, revealed.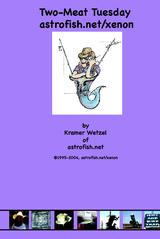 Title: Two-Meat Tuesday
Kindle Edition
"There's an app for that!"
Here's the company/product link. Like most new products, they have a demo on video. I think I need one.
I can just imagine, doing a reading and the client starts to get argumentative.
The minivan ad:
Certain brand of car manufacturer is running an ad campaign for a series of cars. Previously, a friend's comment that was too funny?
"Minivan. He gets me a minivan, he gets a divorce."
So the ad, it's a metal shredding noise, the heavy guitar riff, the flash pots, a video clip with a guitar "gawd…"
It's still an ad for a minivan.
A minivan.
Black Friday Deals on Amazon – Click Here – (starts Monday).